We're Getting Mutants in the MCU - The Loop
Play Sound
Tora Forest (トーラの森, Tōra no Mori?) is a vast forest that spans across Dilhade and Azeshion, effectively serving as the border of both countries.
History
When Azeshion and Dilhade declared war against each other, the Tora Forest, being the border, was the unavoidable battlefield. However, before the two armies could meet, Anos and his allies crippled the Dilhade army to prevent the war from starting.
When Anos didn't find Avos Dilhevia at Eiyan Hill, he teleported to the Azeshion side of the forest, finding himself in a large field of grassland and Avos in there. Anos immediately used Beno Ieven to enclose the area, isolating himself and Avos so he can confront the latter. Avos was revealed to be Anos' friend and also his rival from 2,000 years ago, the Hero Kanon.
Although Anos was able to make up with Lay and end the war peacefully, Diego resurrects Jerga and turns the forest into a battleground once again. In the end, Anos and his allies defeat Jerga without any casualties.
Notable Places
Eiyan Hill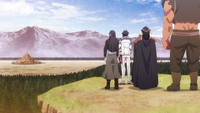 Located further west from the forest, on the Dilhade side of the border, the hill was where the main demon army encamped at.[1] Numerous demon king castles were built there, serving as the headquarters of the army.
Grassland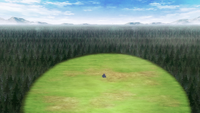 Towards the Azeshion side, there is a large section of grassland devoid of trees, which was described as if there was a hole in the forest.[1] This is where Anos confronted Lay about being Avos Dilhevia.
References