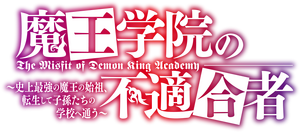 Welcome to Maou Gakuin Wiki!
A wiki dedicated to the Maō Gakuin no Futekigōsha series.
We currently have 3,954 edits to 110 articles and 211 images on this wiki. Feel free to help us by editing our articles.
This wiki is likely to contain unmarked spoilers from the series! Read at your own risk!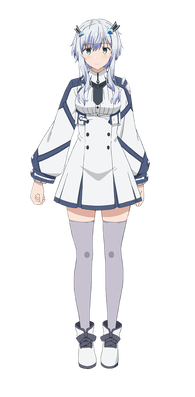 The Demon King of Tyranny who revived after 2,000 yearsーーー
However, his aptitude at the academy that nurturing candidates for the demon king is ーー "Misfit"!?
Tired of endless conflicts, destroying humans, spirits, and even gods, Demon King of Tyranny Anos Voldigoad, who dreams of a peaceful world has decided to reincarnate. But 2,000 years later, what awaited him after his reincarnation are his descendants who get used to peace and became too weak, and magic is in serious decline.
Anos enrolls in the Demon King Academy, the academy that gathers and educates those who are considered to be the reincarnated Demon King, but it failed to see his power and branded him as the Misfit. Furthermore, the legendary Demon King became completely different from himself.
While being underestimated by everyone, only a young girl Misha who is kind to him as his subordinate, the misfit (Demon King) runs up the demons' hierarchy!!
"Whether it is providence, fate, or miracle, before my eyes, it simply prostrates and vanishes."
Episode 1
---
2,000 years ago, Anos, the strongest demon king in history, has reached the limit of tyranny. An entrance exam was conducted at the modern Demon King Academy, the academy that nurtures the ones who inherited his blood, "Demon Emperors". The exam content was a "practical test" in which students make duels. What appeared there was Anos, the reincarnated Demon King of Tyranny, who was tired of the rough world 2,000 years ago. Read more...
---
From Official Maou Gakuin Anime Website
July 3, 2020 ・ The 2nd PV and ED theme sound was just released!
July 3, 2020 ・ ED theme jacket image was released!
July 1, 2020 ・ Special TV program was announced to be released before the Anime!
July 1, 2020 ・ Broadcast information updated!
July 1, 2020 ・ 1st Radio updated!
June 28, 2020 ・ "Saikyou wa, Boku da (The strongest is me)" special site is released!
June 27, 2020 ・ Episode 1 Synopsis updated!
June 26, 2020 ・ 2nd PV release date decided!
June 26, 2020 ・ The plan to advertise the manga started!
June 24, 2020 ・ Yuko Natsuyoshi appears on BS11 "Anigeー☆Eleven"!
June 23, 2020 ・ Obi comment-posting campaign has just started!
June 19, 2020 ・ 2nd broadcast information details released!
June 18, 2020 ・ Comments for Tomori Kusunoki (Misha's VA) and Yuko Natsuyoshi (Sasha's VA) video is now available!
June 15, 2020 ・ Radio program broadcast is announced!
June 12, 2020 ・ Ending theme information released!
June 1, 2020 ・ Broadcast & release information announced!
June 1, 2020 ・ Second key visual released!
June 1, 2020 ・ 1st PV and OP theme information released!
February 28, 2020 ・ The release date of the broadcasting is postponed.
February 27, 2020 ・ March 22 (Sun) AnimeJapan 2020 Stage is cancelled.
February 13, 2020 ・ Sasha's role is announced to be performed by Yuko Natsuyoshi at AnimeJapan "The Misfit of Demon King Academy" special stage!
January 27, 2020 - "The Misfit of Demon King Academy" special stage will be held at AnimeJapan2020 on March 22 (Sun) 15:25.
January 10, 2020 ・ TV Anime broadcasting starts from April 2020. Key Visuals will be drawn by Silver Link. Staff information and character design will be published!
January 10, 2020 ・ Voice Actors announced! Misha, voiced by Tomori Kusunoki and Sasha, voiced by Yuko Natsuyoshi are decided! The two comments have arrived!
October 6, 2020 ・ "Demon King of Tyranny" Anos Voldigoad's role will be performed by Tatsuhisa Suzuki! Comment movie has arrived!
October 6, 2020 ・ "The Misfit of Demon King Academy" TV animation decided! Teaser visual drawn by original illustrator Shizuma Yoshinori is released!
The anime has been announced. What are your thoughts?



If you want to request an affiliation with the wiki, contact me.
The Maou Gakuin Wiki has its own Discord server. Click on the respective icon below to join us or connect using the server.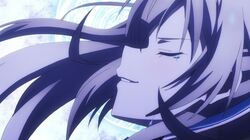 "Bye bye"
Community content is available under
CC-BY-SA
unless otherwise noted.