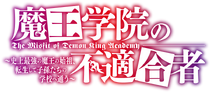 The Misfit of Demon King Academy: History's Strongest Demon King Reincarnates and Goes to School with His Descendants (魔王学院の不適合者 ~史上最強の魔王の始祖、転生して子孫たちの学校へ通う~, Maō Gakuin no Futekigōsha ~Shijō Saikyō no Maō no Shiso, Tensei Shite Shison-tachi no Gakkō e Kayō~) , simply known as The Misfit of Demon King Academy (魔王学院の不適合者, Maō Gakuin no Futekigōsha) , written by Shu and illustrated by Yoshinori Shizuma. The series originally began as an amateur web novel in April 2017 on the user-generated novel publishing website Shōsetsuka ni Narō when it was later acquired by ASCII Media Works which officially began to publish it in March 2018. A manga adaptation by Kayaharuka launched online in July 2018, and an anime television series adaptation by Silver Link is set to premiere on July 4, 2020.
Synopsis
The Demon King of Tyranny who revived after 2,000 yearsーーー
However, his aptitude at the academy that nurturing candidates for the demon king is ーー "Misfit"!?
Tired of endless conflicts, destroying humans, spirits, and even gods, Demon King of Tyranny Anos Voldigoad, who dreams of a peaceful world has decided to reincarnate. But 2,000 years later, what awaited him after his reincarnation are his descendants who get used to peace and became too weak, and magic is in serious decline.
Anos enrolls in the Demon King Academy, the academy that gathers and educates those who are considered to be the reincarnated Demon King, but it failed to see his power and branded him as the Misfit. Furthermore, the legendary Demon King became completely different from himself.
While being underestimated by everyone, only a young girl Misha who is kind to him as his subordinate, the misfit (Demon King) runs up the demons' hierarchy!!
Media
Light Novel
The light novel series began serialization online in April 2017 on the user-generated novel publishing website Shōsetsuka ni Narō as an amateur work. It was later acquired by ASCII Media Works to publish it in their Dengeki Bunko imprint, with four volumes since March 2018.
Manga
A manga adaptation with art by Kayaharuka has been serialized online via Square Enix's Manga UP! website since July 2018 and has been collected in two tankōbon volumes. The manga will be published in English by Square Enix from 2020.
Anime
An anime television series adaptation was announced at the "Dengeki Bunko Aki no Namahōsō Festival" event on October 6, 2019. The anime was originally set to premiere in April 2020, but it was delayed to July 2020 due to production complications resulting from the 2019–20 coronavirus pandemic.[1]The series is animated by Silver Link and directed by Masafumi Tamura, with Shin Ōnuma serving as chief director. Jin Tanaka is handling series composition, while Kazuyuki Yamayoshi is designing the characters, and Keiji Inai is composing the music.
References
External Links
Community content is available under
CC-BY-SA
unless otherwise noted.