Jurassic World: Dominion Dominates Fandom Wikis - The Loop
Play Sound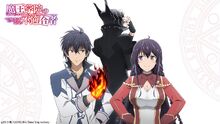 Hero Academy Arc (勇者学院編, Yūsha Gakuin-hen?) is the third arc of The Misfit of Demon King Academy.
Summary
Appearances
Battles
| Participants | Result |
| --- | --- |
| Jerga vs. Anos Voldigoad | Anos defeats Jerga by piercing his abdomem and crushing his lungs. |
| "Jerga Kanon" vs. Demon King Academy's 3rd-year students | "Jerga Kanon" defeats the 3rd-year students by using Holy Water. |
| "Jerga Kanon" vs. Anos's squad | Anos defeats both Ledriano and Zeshia by using Asc through the Fan Union. Sasha defeats Leno with poison magic. Lay defeats Heine with Zele and Zeleo. |
| Anos Voldigoad vs. Diego Kanon Ijaysica | Anos kills Diego by destroying his Root with Bebesd. |
| Anos Voldigoad vs. Kanon | Anos almost kills Kanon but lets himself be pierced by Evansmana to temporarily die in Kanon's place. |
| Anos and Kanon vs. Jerga | Anos summons his castle through Delsgade and defeats Jerga with Venuzdonoa. |
Impact
The Hero Academy is introduced.
Eleonore is revealed to be humanoid magic, created by Jerga 2,000 years ago.
Lay Glanzudlii is revealed as the reincarnated Hero Kanon.
References