Heine Iorg (ハイネ・イオルグ, Haine Iorugu) is the Hero Academy's Rank 3 and a student from the Selection Class "Jerga Kanon".
Appearance
He is described as having an appearance similar to the Hero Kanon.
Personality
Heine possesses a more mischievous personality than his fellow Selection Class students. Despite this, his ignorance of Demons is significantly larger than the rest of the Selection Class, even when cheating to win the exams.
History
Abilities
Weapons and Equipment
See: Equipment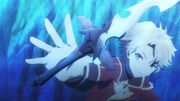 Great Sacred Earth Sword <Zeele> & <Zeleo>: If you use <Zeele> to slash the scratches you made with <Zeleo>, it becomes a stigma. Healing magic won't work.
Relationships
Gallery
Trivia 
References