Demon Sword Tournament (魔剣大会, Maken Taikai) is the 6th episode of Maō Gakuin no Futekigōsha anime series.
Synopsis
"Let's finish within a minute."
Lay and Misa were selected to join Anos's team after being recognized for their success in the Inter-Team Exam. Then, after sharing the joy at the celebration party held at Anos's family for a while, Lay and Anos were selected as participants in the Demon Sword Tournament. In contrast to Lay, who is pleased that the chance of a rematch has come early, Anos cannot dispel the suspicion that "There is something wrong". Then, at the guidance of Misa, he met Melheis Boran, one of the seven Elder Demon Emperors, and the situation accelerated.
Characters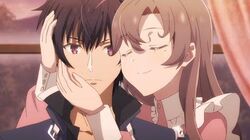 In order of appearance:
Summary
Anime Differences
In the anime, the one who got surprised by Anos's Magic Model was Melissa, the shopkeeper, but in the Light Novel, it was Demil Graha, the legendary appraiser.
Trivia
References
Community content is available under
CC-BY-SA
unless otherwise noted.